I remember some of my amazing art teachers at the Art Center College of Design in Pasadena, California, from whom I received classical training that the old masters had gone through.  They are Harry Carmean, Burne Hogarth, Steve Huston and Gary Meyer,  just to name a few. 
My goal in my art classes is to hand down what I have learned from these masters to the next generations.  As much as the art industry is getting computerized, the more traditional artistic training has to be emphasized.  This is what I believe in.  Classical art never dies.
"Creating outstanding art portfolios for the top art schools"
Congratulations Class of 2013!!
Congratulations, Class of 2013 from Steve Ko Art Studio!
4 students are going to private art colleges this Fall with excellent packages from different schools. You have achieved amazing results! I am very proud of you.
The Class of 2013 had the following distinctions:
* 99% offered scholarships
* Offered $1,701,856 in scholarships
* Accepted $380,000 in scholarships
* 9 merit scholarships
* 1 Presidential scholarship
* 100% going to their dream art colleges in the Fall 
    Katherine Choi (Flower Mound High School) - Art Center College of Design
    Tyler Owen (Springcreek Academy) - SCAD 
    Jennifer Kang (Coppell High School) - Parsons
    Yen-Kai Huang (Colleyville Heritage High School) - SAIC
Floral Painting/Pet Painting Fees
Demonstrations - Figure Drawing Class and Portrait Painting Class
These classes are designed to get students ready for art colleges so that they might do well when they go to colleges. You may expect the best art education .
Perspective
Color theory
Head painting
Painting
Background Painting for Animation
Color Scheme Development
Rembrandt's Texture Workshop
Visual development
Editorial illustration
Figure drawing (Human structure: we learn about bones and muscles in order to build a solid character) and other exceptional courses that will equip students to be ready for colleges !!
Please call for free consultation to get information about art colleges and how to build up art careers !!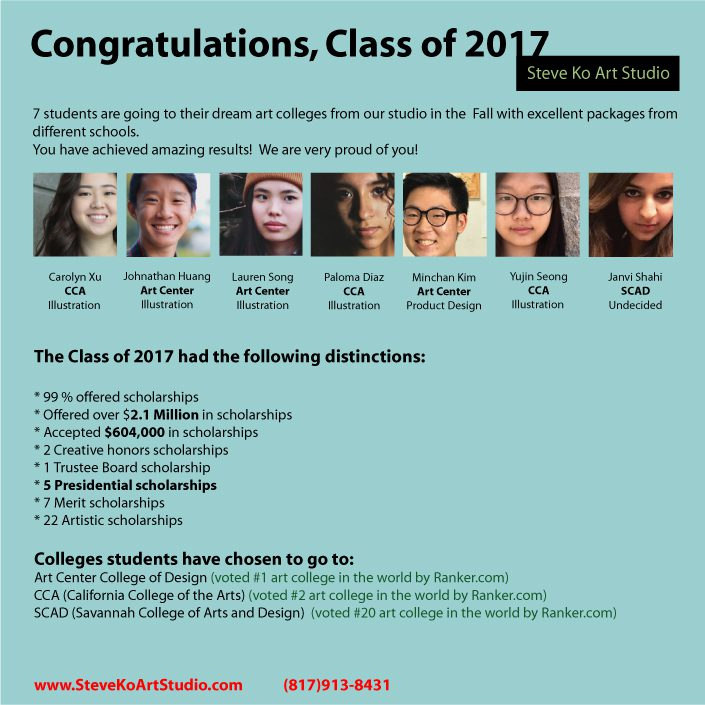 These are some of the recent art students who went to prestigious art schools in the nation.  The goal of my teaching is to get students ready for colleges through classical art trainings so that they can do well in colleges.
Through the years, more than 130 students have gone to the Top 10 private art schools in the nation with excellent scholarships.
Click on the image to see all details of what Class of 2017 has done!